... Roosevelt Island's Assembly Member and NYC Council Candidate Micah Kellner was accused of sexual harassment by a junior staff member....

... There was no suggestion that the inappropriate behavior in either the 2009 or 2011 episodes was anything other than verbal in nature... (via NY Times)
The
August 14 Daily News
followed up:
..Our Ken Lovett reported last week that an ethics investigation has been opened into a 2009 harassment complaint against Kellner.

"The probe comes after it was revealed last month that Kellner's former chief of staff Eliyanna Kaiser brought allegations to [Assembly Speaker Sheldon] Silver counsel Bill Collins in 2009 that the Manhattan Democrat had sexually inappropriate online conversations with a young woman on his staff," Lovett wrote....
More bad news came last week for Roosevelt Island's
Assembly Member
Micah
Kellner
in his race to succeed
Jessica Lappin
(who is running for Manhattan Borough President) as NYC Council Member for
Manhattan's 5th District
which includes Roosevelt Island, the Upper East Side and Midtown East.
According to this August 14
Press Release
from 32BJ of the Service Employees International Union (
SEIU
):
The Executive Board of 32BJ SEIU voted unanimously today to rescind the union's endorsement of Assembly Member Micah Kellner for a City Council seat. It was the first time the union, which has 75,000 members in New York City, has ever rescinded an endorsement.

"Given the allegations against Kellner, we cannot in good conscience continue to support his candidacy, and call on him to withdraw from the race," said Kyle Bragg, secretary-treasurer of 32BJ SEIU. "We are deeply disappointed, and do this with a measure of sadness, but it is the right thing to do."

After rescinding the endorsement, the union's Executive Board voted unanimously to support Ben Kallos, a lawyer and noted Democratic activist, for the Council seat from the 5th District, which includes Manhattan's Upper East Side and Roosevelt Island. That seat is held by Jessica Lappin, who 32BJ has endorsed for Manhattan Borough President.

"Ben Kallos is a hard-working progressive who has always fought for the rights of working men and women," Bragg said. "As a lawyer, he fought to get retirement and health benefits for working families, and has been an advocate on issues that are important to the working men and women of New York City, like education, affordable housing, and tax reform."
NYC Council Candidate Ben Kallos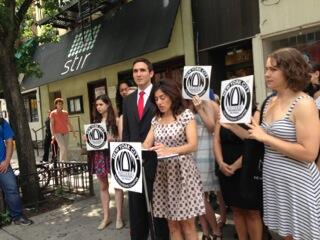 stated in response to his endorsement by the union:
I'm honored to receive the crucial support of 32BJ SEIU, representing some of the hardest workers in our city. I look forward to partnering to ensure excellent work conditions, pay and quality of life for all New Yorkers.
I asked Mr. Kellner last week for a comment regarding 32 BJ SEIU supporting Mr. Kallos but have not yet received a reply.
The Lenox Hill Neighborhood House held a City Council District 5 Candidates Forum yesterday.
Join us tomorrow for a City Council District 5 Candidates Forum! http://t.co/dl8ytHtVj7 @Rooseveltisland @NSAYUpperEast
— Lenox Hill (@LenoxHillNH) August 20, 2013
I will have full video of the City Council District 5 Candidate Forum soon but
here is the closing statement of Mr. Kallos
and fellow NYC Democratic Party City Council 5th District Candidate
Ed Hartzog
on
economics/living wage
. (Both videos via Ben Max,
DecideNYC.com
)
Mr. Kallos has issued a policy book
which his campaign describes as:
...containing goals in the City Council and areas of policy support. The book contains a vision for a more accountable and equitable local government, as well as steps he would take in the City Council to work towards such results in District 5 and citywide...
Assembly Member Kellner did not participate in the Lenox Hill Candidate's Forum yesterday. A spokesperson for Mr. Kellner explained:
... he's very sick, running a fever, and has practically lost his voice, as Lenox Hill Neighborhood House was informed earlier today. A televised debate for Manhattan Neighborhood Network, already taped, is airing on Aug. 28th at 8 pm, I think, and a live NY 1 debate is taking place on Tues., September 3, airing during the 7 pm hour and presumably being rebroadcast that evening during the 10:00 pm hour.
Based upon my anecdotal conversations with Roosevelt Island residents recently, Mr. Kellner remains very popular among his constituents here. Those sentiments are usually followed by "subject to nothing else comes out about the sexual harassment allegations".